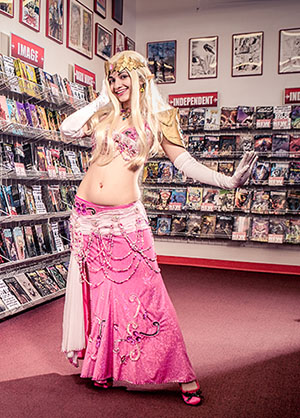 General Information and Press Inquiries:
Email Dawn Xiana Moon, director/producer.
---
Hire Us: Bellydance or Fire (Awesomely Nerdy or Otherwise) for Your Next Event
Need something special to wow guests at your next event? Our dancers and firespinners perform over 100 shows a year for corporate functions, weddings, festivals, comic cons, private events, clubs, restaurants, and theatres, and have taught and performed throughout the US, Spain, Canada, and Argentina; our bellydancers have taught and performed at Tribal Fest, the largest tribal bellydance event in the world.
Raks Geek performances range from 5-90 minutes - fire is optional - and incorporate various styles of bellydance, dance props (swords, fan veils, poi, canes, feather fans, geek-inspired props, veils), LED flow toys, and/or fire props (palm torches, fans, staffs, swords). Shows can range from family-friendly to dark and experimental depending on your audience and needs. Contact us to customize a performance that will thrill your guests!
Fully Insured Fire Performers Who Treat Safety First
All Raks Geek fire performers are fully insured with several million dollars of liability coverage; our firespinners have years of experience with both indoor and outdoor performance and always perform with dedicated safety personnel and equipment. We are happy to detail our safety procedures with your venue and/or fire marshal. Site-specific insurance certificates are available upon request.
Raks Geek is based in Chicago, Illinois, but we love to travel. Email us for details.